PERSONAL NOTES
Every project of this nature needs some sort of introduction, in order to learn the compiler's particular biases which he brings to it. We all appear on Earth at particular times and places, and these appearances affect how we look at things, but our backgrounds do as well. This is my story.
My father, Norman A. Gifford, met his bride Ruth in New York City in 1946.  She was a graduate student at Columbia, and he was taking a piano technician course at a trade school.  He had gotten out of the Army the year before and was planning to go to Detroit to work for the only harpsichord maker in the United States, John Challis.  That must have been a crazy year----all those veterans trying to find normal lives, marrying and starting families.  They married only a few months after meeting in a drugstore soda fountain, and none of their families came to the wedding.  My mother said that her parents were later relieved to find out that her husband wasn't a Jewish Communist!  They went to Detroit soon afterwards, found an apartment in an old warehouse on the Detroit River, and began new lives.  And because the only person in Detroit my father knew was an Army buddy from New York City, it happened that their first social circle were Jewish Communists.
He did learn enough about harpsichords from Challis to make most of one, but Challis was, in the vocabulary of the time, a pretty open "queer," which did not make the work environment particularly comfortable.  In any case, he soon was playing the organ at churches, and playing flute and piano for other occasions.  My parents, after living in a couple of flats in Detroit, bought a house in suburban Ferndale in 1954.  I was born in 1950, my sister in 1952, and my younger brother in 1960.
Dad was born in 1909 on his grandfather's farm in the Town of North Harmony, a few miles east of the village of Sherman, Chautauqua County, New York.  This is rolling, dairy country, in the hills overlooking Lake Erie, in far southwestern New York State.  Culturally (and geographically) it is closer to the rural Midwest than to New York City.  His father Emory (1864-1943) and mother Jessie (1871-1958) were older parents, and, since his father and her stepfather lived into my father's childhood, he grew up around nineteenth-century folks and nineteenth-century life.
The Giffords were descended from an Englishman who settled on Cape Cod in the 1640s and became a Quaker.  Later generations intermarried with other descendants of early Plymouth Colony and Rhode Island colonists.  In the late 18th century they settled north of Troy, New York.   Here they were associated and intermarried with a community of families associated with William Prendergast, who had led a renters' revolt in Dutchess County in 1766.  Prendergast's family moved to Chautauqua County in the early 19th century (Jamestown was named for his son James), and the cousin of two of his daughters-in-law, William Hunt, was the first white purchaser of the land on which the Chautauqua Institution later stood.  Several Gifford cousins and brothers settled in Chautauqua County in the 1820s, including my great-great-grandfather Abram B. Gifford (1806-1846).  Little or no information has come down about Abram.  He must have worked much of his short life clearing the wilderness.  His wife, Margaret Hunt (niece of William Hunt; her brother Elvin was an ancestor of Lucille Ball, who was raised in Jamestown, and, so my father claimed, mentioned Hunt Road on "I Love Lucy"), was a Baptist.  Abram was a son of an ex-Quaker, and he probably did not belong to any church.  This lack of religious identification may have allowed him to take up the violin, but I don't know whether he did.
Two of his sons, Erastus and Augustus, lived to be old men.  Augustus C. Gifford, my great-grandfather, was an amateur musician.  My father had a vague memory of hearing that Augustus and his brother played for dances, and, if this is true, would suggest that they did so in the 1850s and that perhaps their father had played.  In any case, since Augustus was born in 1836, it is reasonable to state that the musical tradition in my family started in the 1850s, if not before.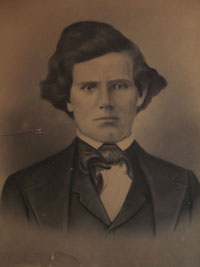 Augustus C. Gifford (c.1855)
Augustus, or Gus, as he was known, has impressed me as someone who seemed to be totally self-sufficient.  He was a carpenter and built the house on the farm he purchased in 1864.  He was a blacksmith and wheelwright, as well as a carpenter.  Probably most of his work involved repairing wagon wheels, but he also made tools.  I have a hammer that he made, with a hickory spoke handle.  He also made furniture.  So he made his house, much of the furniture in it, his barn and some of the tools and machinery in it, besides his wagons.  And this leaves out his music!
I know he played the fiddle.  A second cousin told me that they have a "bass" that he made.  Unfortunately I haven't seen it, so I don't know if it is a bass viol or cello.  In any case, this probably means that he also played that instrument and suggests that he used it at dances.  His grandson, Floyd McCullor, lived with him in his later years and learned tunes from him.
This neighborhood, in the years before the Civil War, produced thousands of dulcimers.  Two factories, one at Stedman, run by Lewis S. and Harrison Wade, in operation from 1855 to 1860, and another in Sherman, run by the Wades' brother-in-law, Henry Ransom, from 1856 to 1859 or so, were responsible for this production.  Local men traveled around the country, as far west as Missouri, demonstrating them, selling them, and taking orders.  Augustus Gifford lived right between these two factories, and he worked for the Wades in Stedman.  I don't know what kind of work he did at the factory, but he could have tuned them up in addition to woodworking, and must have learned to play some.  One day in 1968, my father and I visited the store at Stedman, where owner Archie Cowles talked about the factory and his grandfather, who traveled around, demonstrating the dulcimers and selling them.  Today, if the store is open at all, it is only as a destination during the summer for Chautauqua Institution residents.  Stedman, as a community, is a place of the past.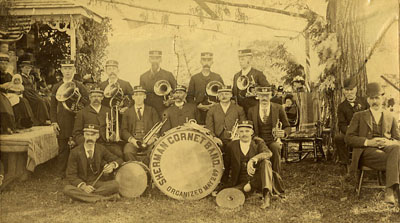 The Sherman Cornet Band (early 1890s) at a celebration at Sam Wood's corners, a mile from the Gifford farm. A dance probably followed.
Many of the people in the area owned dulcimers made at the factories in Stedman and Sherman. The leading ensemble that played for local dances, at least in the rural neighborhoods (formal balls, at hotels in the towns, probably tended to engage note-reading quadrille bands), was one that consisted of Merritt Barnes, violin; John Hitchcock, dulcimer; and Silas Taylor, bass. They probably played for the dance that followed the Sherman Cornet Band's performance, pictured at right. My dad knew Barnes when he was elderly and worked as a janitor at the Farmers and Mechanics Bank in Jamestown. People were exposed to different kinds of music, of course.
My grandfather, Emory Gifford, made a fiddle in his late teens, using hemlock from the side of his father's barn for the top and back, and white oak for the ribs.  It's not the best sounding fiddle in the world, but it works.  His favorite tune, my father told me, was the "Opera Reel."  He also played "Jenny Lind Polka," "Rickett's Hornpipe," "Soldiers Joy," "Zip Coon," and various waltzes.  In 1901 he married Jessie C. Wilcox, descendant of settlers who came to the area in the 1820s from Connecticut and Vermont.  She was raised in the village of Sherman by her stepfather John Beeman, a shoemaker, who, in his old age, had the distinction of being New York State's oldest 33rd-degree Mason.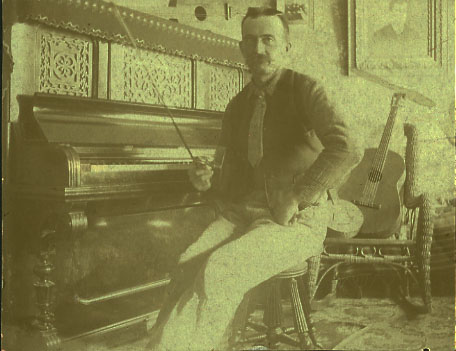 Emory Gifford and violin, mandolin, and guitars he made (c.1905)
Jessie had graduated from Sherman High School in 1889, having studied----as I heard many times----Latin and Greek.  She then completed a short course at the Normal school in Fredonia.  After a year teaching country school, she decided that wasn't for her.  About this time, her mother and stepfather bought a house at the Chautauqua Institution, where she must have received some musical education.  Her mother was a Methodist and, like other women of her generation, was interested in educating herself beyond the limits of the country school, and she participated in a women's study club through the Methodist church in Sherman.  Some of my books, including a set of Americanized Encyclopedia Britannica, have come down from her.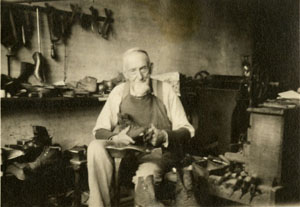 John Beeman in a New York Times rotogravure photograph (1926)
John Beeman must have been doing reasonably well repairing shoes to allow his wife Jennie to lease a house at the Chautauqua Institution from 1889 to 1891 and buy a piano as well.  Jessie then took the train regularly to Corry, Pennsylvania, to take piano lessons with Prof. Henry Wilson.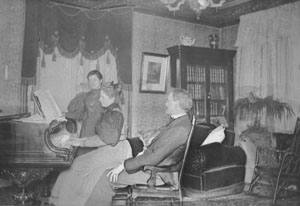 Henry Wilson giving piano lesson, Corry, Pa., c.1890
Wilson had studied in Germany with Carl Reinecke, if I recall.  From a program which has survived, I know that she completed her course in 1896, playing "'Tis the Last Rose of Summer," by W. F. Stubbs, at the recital.
They lived on the farm from their wedding until 1916, when the doctor told Emory that the chaff caused by threshing grain was wrecking his lungs.  Jessie was happy to leave the isolation of the farm, and they moved into a house in Sherman.  She taught piano and involved herself with activities in the Order of Eastern Star, Rebekahs, the Grange, and church, playing piano for those organizations.  Her biggest adventure was a trip to Washington in 1928 as a delegate to the National Grange convention, where she met President and Mrs. Coolidge.  Emory worked odd jobs and acted as town assessor and lived until 1943.  Jessie then moved to an apartment in Westfield and in her last years lived with my uncle in Willoughby, Ohio, or with us.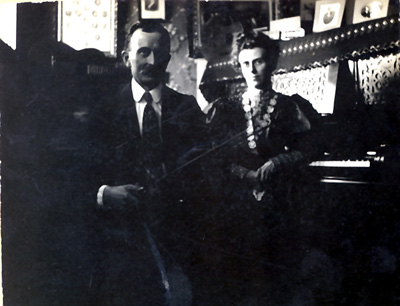 Emory and Jessie Gifford (c.1906)
Emory never played for dances, although as a young man may have done some of that.  He was a shy person and mostly played at home with his wife, who accompanied him on the piano.  He got interested in the guitar, probably around 1890, and made two of them.  One used hemlock for the soundboard and back, with white oak for the ribs, while the other one (probably a copy of a Washburn) had a quartered white oak back.  My father said that he played the guitar in more or less classical position, with the lower bout resting on his left knee.  He picked the strings with his fingers, not using a pick.  Mostly he accompanied either his whistling (of tunes like "Red Wing") or an Echophone harmonica that was clamped to the guitar.  He also made a flatback mandolin, using a bone toothbrush for the bridge, again of oak and hemlock.  He may have dabbled with other instruments.  A cousin, David Stanton, told me that he got a cello from him in the late '30s.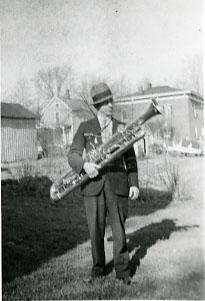 Walter Gifford with sarussophone (c.1925)
They had two children, Walter  (born in 1902) and Norman (my father), born in 1909.  Walter learned to play the piano and chose the clarinet as his other instrument.  When my father was old enough (around 1918), they bought him an India rubber flute, from the Sears & Roebuck catalog, of course.  Walter went to country school and quit after eighth grade and then enrolled in a business school.  In any case, Sherman High School did not have a band or orchestra until my father organized one.  I'm not sure which bands Walter may have played in, but he took lessons with Jan Williams at Chautauqua (who offered him a scholarship to Juilliard, which he did not pursue).  In any case, by the mid-1920s, Walter had his own small, five-piece dance orchestra, the "Gifford Orchestra," which played for local dances.  About this time, he joined and toured with the National Shriners' Band, based out of Kissimmee, Florida. He played the sarussophone, using a single-, instead of a double-reed mouthpiece.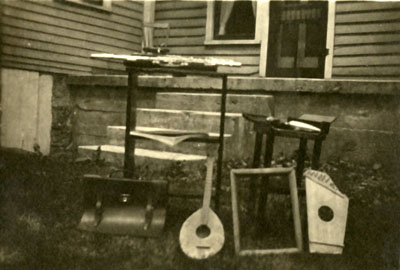 Things Norman made as a kid included a zither-like instrument.
Around the winter of 1925-1926, my father played the piano in Walter's orchestra (Walter played saxophone and clarinet, others played violin, tenor banjo, and trap drums).  They played for dances at a pavilion on Chautauqua Lake, getting paid $5 a night, playing until 5 in the morning.  The dances included fox trots, Paul Jones, waltzes, the Virginia reel, and square dances.  They used published sheet music, including quadrille folios, like DeVille's, but also accompanied an older local fiddler, a blacksmith named John Park, by ear.  This was the winter of the phenomenal visit of Maine fiddler Mellie Dunham to Henry Ford, so getting Park may have been something occasioned by this national phenomenon.  At school, Dad was organizing other student musicians in playing music by Erik Satie and other contemporary composers.
Accompanying a local male quartet on piano, Walter played at a farmers' convention in Jamestown in 1926.  On the same program was Jesse R. Martin, who had become a local celebrity as a result of his visit to Henry Ford.  Two years later, Walter bought a dulcimer secondhand in Youngsville, Pennsylvania, learned a few tunes on it, and played it on occasion.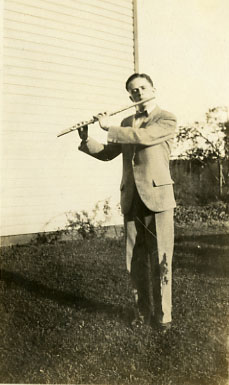 Norman Gifford with flute (c.1927)
My father had been studying the flute during the summers with Georges Barrere at Chautauqua (and piano with his mother's teacher in Corry).  Barrere, flutist with the New York Philharmonic, was the pre-eminent teacher and performer on his instrument, and offered Dad a place at Juilliard.  Through occasional performances at the Mozart Club in Jamestown, my father had gotten familiar with some of the local society doyennes, and one of them, Miss Tirzah Hall, offered him a scholarship.  He went there in 1927 and graduated in 1936, indicating that he must have stretched out the experience (through the grace of Miss Hall, no doubt).  During some of this period he had a job at the Metropolitan Opera, pulling curtains.  At the height of the Depression, the ostentation of some of the audience was astounding; he recalled one limousine covered in alligator leather.  Sometimes people would pay him to take his place just to be behind the scenes at the Met. 
In 1936, he got a job as a research assistant for the well-known musicologist, Charles Seeger.  This was funded by the Resettlement Administration and lasted less than a year.  He worked on various projects for Seeger, one of them having to do with bands or band music.  In his spare time, he copied music (by hand) from the Library's collections.  He talked with his boss about dulcimers; this may have included the "Kentucky dulcimer," which my father first encountered when played by John Jacob Niles in a New York recital in 1932.  Seeger also interested him in Sacred Harp singing, which he participated in when stationed in the Army at Dothan, Alabama. 
Back in the New York City/New Jersey area, he played chamber music and got more interested in what is now called "Early Music."  He bought a set of recorders and wanted to make a harpsichord.  He followed up his dulcimer interests as well, perhaps through Seeger's influence.  He haunted the Lower East Side stores of John Koleszar, who made him a pair of what I would call "New York City-style" hammers, as well as cimbalom hammers, and bought a secondhand "tsimbl" from the Blank Brothers' used musical instrument store.  Following a year or two teaching woodwind instruments at Mesa Junior College, in Grand Junction, Colorado, he returned home to wait for the call to be drafted into military service. At that time, he went to a radio station in Jamestown to accompany on the piano his friend Harold Crissey's singing of "Wal I Swan!," an old vaudeville "rube" song, the words of which he had gotten while at the Library of Congress. Crissey, born in 1883, must have remembered it from his youth.
Wal I Swan, sung by Harold Crissey, with Norman Gifford, piano, Jamestown, New York, 1942.
He served in the Army, mostly in Hawaii, where he played in the divisional band.  He had, sometime before, decided to go to Detroit to work for Challis or at least to learn how to build a harpsichord, which is why he enrolled in a trade school in New York City to learn piano technology. 
As I grew up, my father struggled to make a living, giving lessons on flute, recorder, and piano, playing organ on Sundays, and playing odd jobs during the evenings.  My mother played violin around the house a lot (she had studied with Scipione Guidi, one-time concertmaster of the New York Philharmonic, when in high school), and they played together some, but mostly my father played chamber music or two-piano music (with Sally Dow).  He got bogged down designing and making the harpsichord jacks, though the rest of it was finished before I was born, so it sat unused as I was growing up.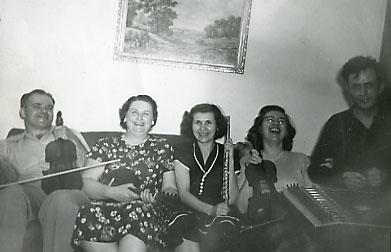 Norman and Ruth (at right) posing with instruments (c.1950)
I heard the word "dulcimer" occasionally as a child.  I remember one day, while I watched, my dad made a box out of plywood, attached pins on one side and zither pins on the other, and then strung it with piano wire, and said it was "like a dulcimer."  This must have been around 1956.  I remember him, even earlier, occasionally putting on an album of cimbalom 78s by Iancu Borcea Carlig (not to mention getting in trouble for playing with his cimbalom sticks in the bathtub!).  Then sometime later, I remember going with him to visit a friend who had recently bought a "Kentucky dulcimer" on a trip South, I think at Berea, Kentucky.  So as a child, I had a vague idea of what a dulcimer was.
My father's plans to make one first were aborted by being drafted in 1942.  He said he had made pin blocks and a back at that point.  In Detroit, in 1948, he repaired one that Challis had referred to him.  Twenty years later, he finally decided to make one.  We went to my uncle's house, and Uncle Walter took his out of the closet, and they both went to work tuning it up.  I watched, then started fooling around with it.  I started to become addicted to it.
Soon it became clear that I was the one that was going to play it.  My father made one, but I used my uncle's instrument and took it off to college, when I went to the University of Michigan that fall.  My father said I should learn the music that was played on it, and he pulled out his copy of 1000 Fiddle Tunes, went through it, noting the names of the ones he was familiar with (like "Money Musk," "Fisher's Hornpipe," "Durang's Hornpipe," etc.), and I began learning the tunes by note.
He wrote a letter to the Library of Congress, trying to locate a copy of the dulcimer method that Challis once had, in order to get photocopies.  The Library of Congress did not have any, but his letter was referred to the Archive of Folk Song, and its director, Rae Korson, responded with an amazingly detailed response, listing every piece of evidence for the instrument that she could locate.  This included mentioning Howard Mitchell's first attempts at making one, Chet Parker's recently issued Folkways LP, and some references to players that correspondents to the Archive had described.  Obviously Korson must have felt that his inquiry was rare enough that it warranted some research.
At the University of Michigan, I began researching the instrument as well.  It soon became apparent to me that in folk (that is, Folk Revival) circles, "dulcimer" meant the Appalachian dulcimer, while the true dulcimer was almost completely unknown (the term "hammered" dulcimer, as used today, did not yet exist).  I found bits and pieces on the American tradition, and learned of the relatives in other countries.  The Stearns Collection of Musical Instruments had some, including an 18th-century Italian one.  Curiosity about this one (at the time, books called it a salterio tedesco) led me to locate, by randomly picking up a catalog of manuscript music at a library in Genoa that I saw in the University of Michigan Music Library, numerous 18th-century compositions for salterio.
My first year at college did not go well.  I ignored schoolwork while researching dulcimers and other topics, and I decided to take some time off.  I went home, got a good-paying but rough job in a factory and saved money for an open-ended trip to Europe.  I wanted to get out of the country, anyway, as the politics of the Vietnam War were giving me pain.  Before that, though, I encouraged my friend Jon Blasius, who had played the cello through high school, to try his hand at the fiddle.  He did, and he learned very fast, learning by ear the twenty or so tunes I had learned.  My father had told me of the two styles of playing the dulcimer, the one, playing melody (or "lead"); the other, playing accompaniment, or "second."  He showed me a sort of pattern to play.  So, with Jon playing lead, I played second.  Before I went to Europe, I bought a couple of antique dulcimers.   One morning I called all the antique dealers in the Detroit Yellow Pages and located two.  My father also located two by placing an ad in his hometown newspaper.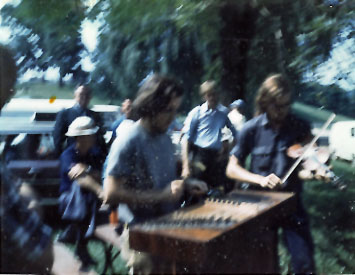 With Jon Blasius at Galax Fiddlers' Convention (1971)
After almost two years in Europe, the Middle East, and India, I returned home.  I had gotten away from the dulcimer, although I did try to follow up leads in Europe during the first part of the trip.  But Jon wanted me to get back into it, and in no time, we did.  Over the next year we played constantly together, learning new tunes.  We looked up people like Chet Parker, Frank Stevens, and Stewart Carmichael.  Soon, other friends from high school, including Mike Berst, Bill White, and Brad Glidden, began playing along.  After Jon and I took a trip around the country in 1972, having used the name "Oakridge Ramblers" at a fiddlers' convention in Fries, Virginia, we started using the new name as we got jobs in the Detroit area.  In 1973, we started to develop a following; later that year, Martha Burns and Dick Tarrier joined the group, and we used the name "Pigtown Flingers."  We were playing all the time and depositing our earnings in a bank account that would pay for the production of a record.  However, personal issues developed and the group broke up in 1974.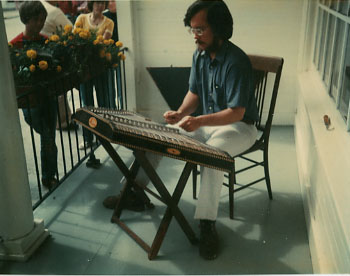 Playing on the porch of the Murray Hotel, Mackinac Island, Michigan (1977)
I continued on, attempting to make a living with music.  I made dulcimers in the workshop of my parents' house, played on the porch of the Murray Hotel at Mackinac Island every summer from 1975 to 1985, and played odd jobs elsewhere, frequently on the street.  It was a convenient way to travel the country, as long as the car happened to work. 
During this period, I got interested in reviving traditional music in Michigan.  I had been involved with the Original Dulcimer Players Club once I located members in 1971, and became secretary in 1974.  The Fun-Fest at Evart began in 1973 and each year attracted more and more people.  In the early 70s, I went to a number of events around the country in order to get a sense of the different styles of fiddling.  I went to the Galax, Virginia, fiddlers' convention in 1971 and 1972, to Union Grove, North Carolina, in 1975, to contests in Ontario in 1973 and Pennsylvania in 1976, and still more.  I tracked down dulcimer players, past and present, wherever I went, including Sterl Van Arsdale, in 1972, and heard all three brothers (Paul, Phillip, and Sterl) at their family reunion in 1975.  In an attempt to flush out other players in the area, I rented a grange hall at my father's home area (Stedman), sent out flyers, and held a small "fiddle and dulcimer day" there in 1976, with the Van Arsdales and others (my uncle played a tune on the dulcimer there).
I had started trying to play the fiddle in some earnest in 1971 and, with the dulcimer, was oriented towards the more traditional approach, playing it as an ensemble instrument and accompanying fiddlers.  Evart and the ODPC meetings drew some fiddlers (some of whom also were interested in the dulcimer), but it became apparent that Michigan needed some sort of fiddlers' organization to sponsor events.
Bob Fleck was beginning to plan a film on Michigan fiddling, and with his encouragement, and in 1976 I went to Sheridan, Michigan, to talk to Ken Staines, who I knew through the ODPC, to locate a hall in their area which we could use to hold a fiddlers' event.  Ken eventually got use of the high school.  We mailed out invitations to a mailing list developed out of the ODPC membership list, plus other fiddlers I had encountered or had heard of.  The response was good; some of the format was copied from a fiddlers' contest at Indiana, Pennsylvania, that I had attended.  We did not have a contest, however; we called it a "jamboree."  I don't know why I chose this term.  I guess it conjured up a faintly out-of-fashion "country" event of some sort.
We began planning more such events.  At each jamboree, new fiddlers and other instrumentalists appeared.  Pretty soon a regular following developed.  After the first three or four jamborees, Bob Fleck and Jane Allison took over most of the responsibilities for organizing and administering the events.  I usually acted as the piano accompanist, which meant that I had to play a lot of tunes that I didn't know with people I also had never met before.  The fiddlers' program, where each played three tunes, would take up the afternoon.  This was usually followed by a potluck dinner.  Around 7 p.m. the dance would start and go as late as the crowd permitted. Eventually, some of the jamborees started drawing pretty large crowds, and the dances might get as many as fifteen callers signing up.
An unfortunate personal rift developed in 1980, but it did result in the formation of two formal organizations:  the Michigan Fiddlers Association and the Original Michigan Fiddlers Association.  The two groups have continued to hold events, the OMFA being a bit larger.
What was great about it was that, unlike fiddle contests, these jamborees did not restrict performers to particular types of tunes (say, a reel, waltz, and "tune of choice," all of which had to be at least fifty or more years old, or some similar rule).  Although it was clear to most of the players that square dance tunes were most appropriate, they also played a lot of more recent tunes like "Bill Bailey," "San Antonio Rose," or even "Paper Roses." Sometimes they might play a Polish tune or two.  And, if I was playing the piano, I always encouraged, to the extent possible, those obscure, no-name tunes.  The dances, too, varied, from such older calls as "Do-Si Balinet" to more recent singing calls, which became more common as the older callers died off.
I went back to school in 1981, got a degree in history and a master's degree in library science with specialization in archives, and spent less time going to these events.  I had the good fortune to be asked by Les Raber to accompany him at the Smithsonian Festival of American Folk Life on the Washington mall in 1987, which I enjoyed a great deal.  At this point I left a two-year terminal job at the University of Toledo for a new job at the University of Michigan-Flint.  In 2012, I am still there.
More recently I have gotten interested in exploring the historical dimensions of traditional music.  I wrote an article, "Fiddling and Instrumental Folk Music in Michigan," in Michigan Folklife Reader, ed. Yvonne Lockwood and Kurt Dewhurst (East Lansing:  Michigan State University Press, 1987); a book, The Hammered Dulcimer: A History (Lanham, Md.: Scarecrow Press, 2001); "Henry Ford's Dance Revival and Fiddle Contests: Myth and Reality," Journal for the Society for American Music 4 (Aug. 2010): 307-338; a column which ran in Dulcimer Players News from 1997 to 2004; and other articles.
Although I miss having not recorded certain fiddlers I met in the 1980s who since died, I am glad I was able to tape many fiddlers and others when the jamborees were first starting.  Many of the fiddlers and dulcimer players, of course, never had anything to do with them, as I happened to meet them before or outside of those venues.  When I first started recording, I used a Sony reel-to-reel (which, incidentally, still works!) that my father purchased in 1965.  I bought a Superscope cassette recorder in 1975, and most of the recordings made in the late 1970s were done with that. 
Now, years later, few from the generation born between 1880 and 1920 remain.  At 61 I've already outlasted my immediate family, and, like everybody else, I don't know how many years I have.  I am putting this website together in order to organize and help disseminate these recordings.   Preservation of the tapes will come later.